By Imma Aurino and Giulianna Faliero
If you remember, a few weeks ago we told you about how the Argentine people were trying to help Franco Colapinto with the viral hashtag #FranColpaintoaF2. As we said, their huge mediatic action didn't go unnoticed: the hashtag reached not only Argentine celebrities, but also an international public. Many companies started offering their support to Colapinto for a potential F2 campaign, which got more and more tangible every single day. So, after this massive fan action and investment in his career, one thing in Franco's mind was crystal clear: he had to go back to Argentina.
So that's exactly what he did. Last week Franco was welcomed once again in his country by his Argentine supporters. He spent some busy days between interviews, presentations and meetings with both his fans and sponsors. We've followed his tight schedule from Italy, we were marvelled witnessing the lenghth that something as simple as a Twitter hashtag went. It's always been much more than that. The Argentine people saw in Franco the sparkle of a new hope to bring South American motorsport back to his past-days glory. They felt the need to prove that despite the hardships of being noticed at an international level as an Argentine driver, young drivers like Franco deserve at least the chance to prove that they belong at the pinnacle of motorsport.
Pride and struggle
The Williams driver talked about these topics at lenghth in many interviews. He is extremely aware of his role as a South American driver in a predonminantly European world. He's been telling about how he felt when he moved to Europe by himself at the age of 14 to be able to compete in karting. He talked about the inner dynamics of a F3 team and his relationship with his teammates. Franco kept saying how grateful he felt for the second family he found in Europe. But still, what he always wanted was to have the support of the Argentine people, his people. He wanted to make them proud, to wave the blue and white flag on the highest step of the podium.
Anecdotes from the paddock
Franco chose to thank the fans by wearing his heart on his sleeves and talking openly about his life in the paddock. He explained how he deals with fear, pressure and keeping the focus while going at more than 200 km/h. In fact, whilst he isn't afraid of potential risks while driving, he works with a therapist to deal with pressure and take care of his mental health.
However his most remarkable comment was definetely one about the last weekend of the season in Monza. The Argentine driver secured himself a win in the Sprint Race at the Temple of Speed ending the season on a high. But, what nobody knew, is that two weeks earlier Franco had broken his clavicle and had had surgery in order to fix it. Nonetheless he refused to miss the last weekend of the season and didn't tell the FIA about it, even though he was still in pain, because he knew they were going to forbid him to participate. The only ones who knew were his managers, his boss at Williams and at MP Motorsport, but no one else in the team knew. So he just pretended everything was alright and raced with a broken clavicle!
News and achievements
The press conference at the ACA (Automobile Club Argentino) in Argentina marked a significant event in Franco Colapinto's racing career. During this gathering, the 20-year-old Buenos Aires native unveiled his ambitions to compete in the upcoming Formula 2 but in the moment he can't reveal anything yet.
"We're still uncertain about which team we'll be with, as there are some available seats. We are in the final stages of securing the necessary budget," explained Colapinto, who has been a standout performer in the 2023 Formula 3 International Championship.
Maria Catarineu, the Spanish manager representing the young driver, added that while nothing is confirmed yet, they are actively seeking additional sponsors to make this ambitious plan a reality. Colapinto's working group aims to depart with secured support to return to Europe with 90 percent of the closed budget out of a total of 2.5 million euros (2.6 million dollars).
They have obtained ongoing financial backing from the Ministry of Tourism and Sports for the year 2024, in addition to sponsorship from the software engineering and technology company known as Globant and Bizarrap, the successful Argentine producer.
Bizarrap decided to support Franco Colapinto due to a personal connection and mutual admiration. Both are young Argentines with significant social media presence, and Colapinto is a fan of Bizarrap's music productions.
The collaboration originated from a tweet by Globant's CEO, Martín Migoya, who offered to help Colapinto and invited Bizarrap to join. Bizarrap accepted and made a financial contribution, but his main action was leveraging his extensive online presence to help Colapinto find new sponsors. He personally reached out to some companies to facilitate new partnerships.
So how about F2?
Meanwhile the aim to have Colapinto compete in the final F2 race, scheduled for November 26 at Yas Marina has been achieved with MP Motosport.
While the transition from Formula 3 to Formula 2 is expected to be challenging, Colapinto is excited about the prospect, especially because the new cars will bring different dynamics to the competition. These cars are heavier, boasting a power of 650 horsepower (HP), and they feature larger 18-inch tires compared to the 15-inch ones in Formula 3.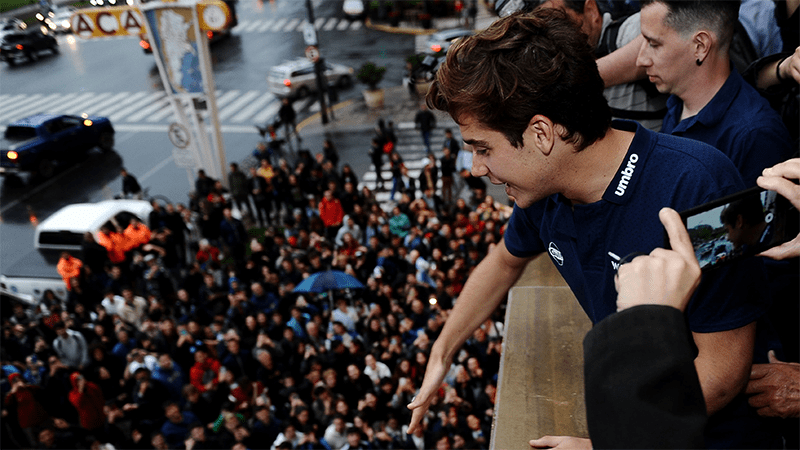 Franco and his fans
The press conference was also a special moment for Franco, allowing him to fully appreciate the overwhelming support he's receiving from numerous Argentine fans. Despite the rain, many of them patiently waited for their hometown hero from Pilar. They showed unwavering dedication as they eagerly awaited their turn to express their enthusiasm through cheers and songs.