If you're a racing fan and a Twitter user then you've probably heard of Franco Colapinto. In fact Franco has just finished a superb second season in FIA F3 with MP Motorsport. But the future of this young driver is very uncertain. That's why the Argentine public decided that they weren't going to stay silent, Franco deserves aseat in F2, and they made sure the whole world knew that.
A bit of Franco
In the realm of Argentine motorsport, a rising talent has been steadily making his mark – Franco Colapinto. This 19-year-old hailing from Buenos Aires has been capturing attention both on home turf and the global racing scene. His journey into the world of motorsport began at a young age when he set his sights on Europe, a decision that would shape his career trajectory.
Franco's career in karting started in 2016, when he won the Argentine Championship. He won again in 2018, when he also debuted in the F4 Spanish Championship with Drivex School. In 2019 he managed to win the title with eleven victories for FA Racing by Drivex. He also took part in Euroformula Open and in Formula Renault Eurocup championships, gaining precious knowledge and experience on several important European circuits. But the Argentine didn't race in Europe only, in fact he participated to the Toyota Racing Series, which is held in Oceania, in 2020, winning a race in Hampton Downs and claming the rookie championship title. Moreover, in 2021 he joined G-Drive Racing for a campaing in the Asian Le Mans series.
Franco Colapinto is currently at a crucial point or his racing career as he aspires to secure a spot in the competitive Formula 2 championship for the upcoming 2024 season. With his prior achievements and solid performance in Formula 3, Colapinto has demonstrated his capability to compete at higher levels of motorsport. He has just concluded his second year in Formula 3 with a brilliant 4th place after a his win at the Sprint Race in Monza.
Social Phenomenon #FranColapintoaF2
They flooded social media platforms with the hashtag #FranColapintoaF2, they made memes, videos and the hashtag soon started trending on Twitter. They've spread awareness so well that they managed not only to collect funds for his F2 campaign, but also to involve many local celebrities who are now offering to sponsor Franco in order for him to keep racing. We're talking about the streamer Coscu and the producer BZRP, Martin Migoya, the ceo of Globant, and many others. It made the news, once again we witness the Argentines stand together to support a national talent.
Securing a seat in Formula 2 demands a substantial budget, estimated at around 2.5 million dollars for a full season. While Colapinto and his team have secured 70% of the required funds, a significant shortfall remains. Despite this financial challenge, Colapinto and his representatives are actively engaged in securing the necessary support to make his Formula 2 aspirations a reality for the 2024 season.
Colapinto can count also on the young driver program at the Williams Formula 1 team . The academy has provided him access to cutting-edge simulators for Formula 2 and Formula 1, underscoring their confidence in his talent. But his contract has a clause: he stay in the academy only if he can find a seat in Formula 2 next year.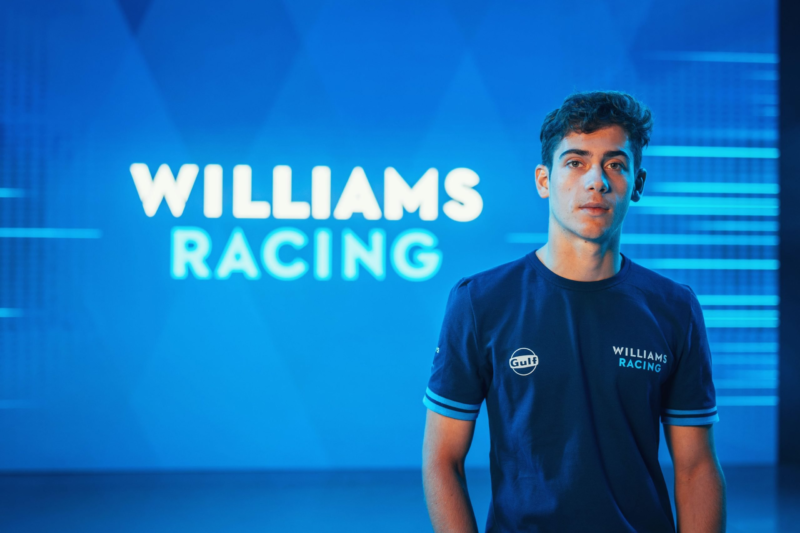 As the deadline approaches for a crucial decision regarding his Formula 2 future, his team is doing everything it can to provides him the money he requires with for the upcoming season , with MP Motorsport really keen to continue their journey with the Argentinian driver.
Hopefully this effort won't be vain, Mult1formula supports Franco and we can't wait to see him rocking his brand new sponsors on his F2 helmet!
By Imma Aurino and Giulianna Faliero