By Giulia De Ieso and Giulianna Faliero
During the Aci racing weekend at Mugello, after the first ever race of the Euro4 championship, we got the chance to have a quick chat with American driver Ugo Ugochuckwu. We managed to meet him right beside the Prema box. The 16-year-old had just won the Saturday race and now, after two more races ended with a win and 2nd place, he's leading the Euro4 standings. His success delights not only his fans and his team, but also those at McLaren who chose to invest on this young talent. In fact he is currently the only member of the McLaren Academy, which has once again chosen to focus on less drivers but to give them their full and undivided support.
When we talk to him he's extremely serious. Still a few minutes later he's joking around in the paddock as if he hadn't just reached over 120 mph in his F4 Tatuus. He says he likes it around here at Mugello, even though it's not always easy. "It's a beautiful track with many high-speed corners that make the tyres get worn-out pretty fast. It's hard to manage this aspect during the race". But he's not intimidated by the high precision demanded: "I really like it, even if you have to be almost inch-perfect during quali to set the perfect time".
He's walking up and down in the paddock, followed by journalists, social media managers and engineers.
It seems to be a busy weekend for the the title contender in the Italian F4. In fact, in that category he's currently fighting for the title against his team-mate Arvid Lindblad. "It's my second year in F4 and I already have some experience with the car. I like working with Prema and this year we've already got several podium placements. My goal is to try to win the championship, so it's very important to be consistent and get on the podium often".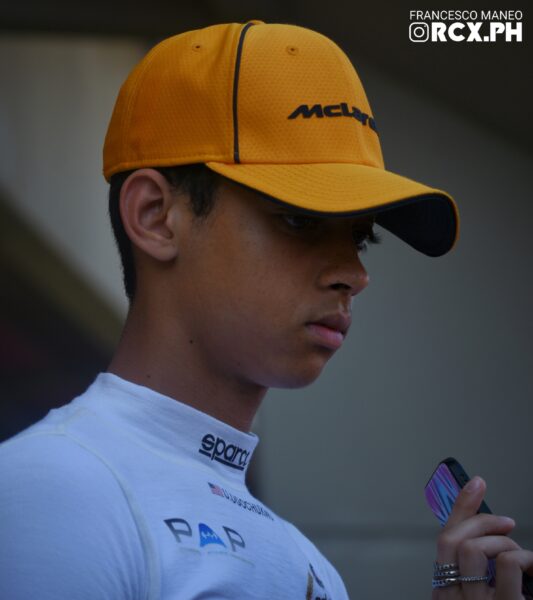 You can easily spot him: not only for his height, but also for the McLaren cap he's proudly wearing. He's the only member of their academy, which once lead drivers like Lewis Hamilton and Lando Norris to Formula 1. "It's amazing to be a part of the McLaren family. They constantly support me, and I think I am gaining some good results this year with them". Then he starts smiling and, referring to the recent F1 qualifying session in Silverstone, he says "I've seen today's quali. It went well, it shows they're improving!"
Ugo leaves us and goes back to training, preparing for the last races of the weekend on Sunday.
We wish Ugo a good continuation of the Italian Formula 4 and Euro4 championships, hoping they will bring great satisfaction and results to him and the Prema team.