By Francesco Maneo, curated by Giulianna Faliero photography
Hey everyone, I'm Francesco Maneo, I'm a freelance photographer from Italy. I'm 22 and for the past eight years I've covered Motorsport events, mostly in Italy. I'm always catching the track action of the main open wheel series and whenever I get the chance I love to go and see them in person, and of course, take photos of them.
It was my first time covering a 6 hour test with the same cars running around all day. The setting was the one of the Autodromo Enzo e Dino Ferrari of Imola and the subjects were the young drivers and their dallara FIA F3 cars.
I should point out here that I had no track-side accreditation for this event, so every shot I took was from the public's view points. But it's not going to be an excuse, as I've been used to doing it here at Imola for quite some time now.
Without further ado let's talk about Motorsport photography!
The weather conditions were perfect, the sky in the morning was clear and the early morning lights made the cars shine in all of their beauty.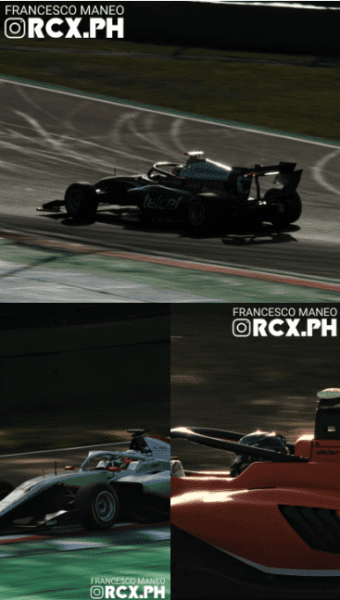 This set of photos is from turn 11-12-13 as known as the Acque Minerali section. This section is very technical and the cars are going under the tall shadows of the trees. In this early autumn day the sunrays were low enough to make their way through the leaves, thus creating a perfect set up for some backlight photos which I crave.
Variante Alta is one of my favorite places on the track, here each driver has a unique way of dealing with the two apexes. Taking photos here is great even if the view is from behind the cars. We can see drivers using every bit of kurbing there is on the first corner to get the best exit possible.
Capturing moments like this is one of the reasons why I love motorsport photography so much.
As you may have noticed my photography style is sometimes dark. I like high contrasts and I love to use my surroundings to add depth to the photos whenever I can. An exemple of this is the cover photo of this article. Imola is one of the best tracks for this thanks to its location!
One important thing to mention is that these post-season FIA F3 tests have seen some very young and promising drivers from all around the world. Honestly, it was great to see some of these talents again after following them throughout their junior careers, sometimes even since their karting days.
Last but not least i would like to thank Mult1formula for the giving me the opportunity to share my passion with you all, it's truly been a pleasure.
If you liked this article (and especially the pictures) go and follow me on Instagram at @rcx.ph!