The 2023 season began with a display of undisputed dominance due to the perfect synergy between Max Verstappen and his RB19. In this new generation of ground-effect cars, Red Bull has once again proven itself to have the best understanding of the new regulatory cycle first introduced in 2022. With an over-a-second technical advantage over their competitors, championship hopes were quickly shattered. Red Bull's supremacy at the season opener in Bahrain had already raised suspicions among the sharpest observers, including George Russell, who had predicted an all-in Red Bull performance for all 23 events on the calendar. In retrospect, his prediction was not far off the mark, as the Milton Keynes-based team currently boasts 15 victories out of 16 races held and has already secured the World Constructors' Championship, with the WDC set to be added to their trophy cabinet very soon.
A season of dominance, but with many stories to tell
Nevertheless, this overwhelming dominance of the Anglo-Austrian team should not come as a surprise. Formula 1, by its very nature, is a cyclical sport. World championships fought to the last point, as witnessed in the recent 2021 season, are exceptions to a rule that often leads to recurrent periods of dominance at the top. While some of the audience might feel discouraged, true sports enthusiasts understand that, beyond the extraordinary victories of an equally extraordinary champion, there are other stories worth telling. These narratives shape the framework of a sport that never fails to deliver excitement.
As F1 lands in Qatar, we are presented with a still-open championship behind Red Bull's back. Both the drivers' and constructors' championships are highly competitive, with the balance frequently shifting from race to race, influenced by both track layout and various circumstances. The grid, it seems, is tightly packed, and even the smallest of details can have a significant impact, often resulting in unexpected outcomes.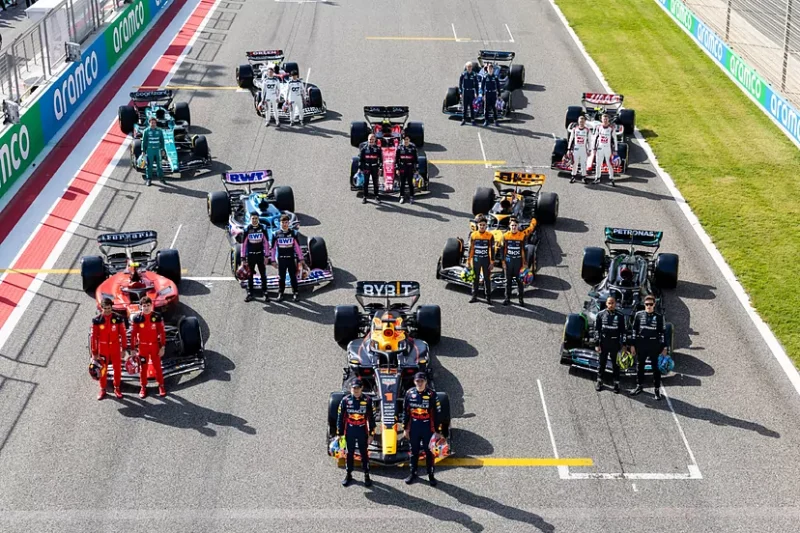 World Drivers' Championship
The untouchable Max Verstappen
If there were any doubts about Max Verstappen's status as a phenomenon, the 2023 season has dispelled them entirely. Flawless and unstoppable, the Dutchman is rewriting history, cementing his status as a legend in this sport with every victory he achieves. The upcoming Qatar Grand Prix offers him the chance to secure his third consecutive world championship, placing him in the illustrious company of Formula 1 greats like Brabham, Stewart, Lauda, Piquet, and Senna. Alongside Max, however, there are other notable figures who have positively stood out in the 2023 season so far.
The Veteran and The Rookie
Fernando Alonso is certainly one of them. The Asturian driver, aged 42, races like a youngster, displaying speed and race-reading abilities that few in this sport have ever possessed. His early-season success was, in fact, built on his monumental performances. At present, he holds an impressive 174 points in the drivers' standings, while his teammate, Lance Stroll, has earned only 47. Currently fourth, Alonso relinquished third to an incredibly solid Lewis Hamilton. Although fighting tooth and nail to maintain his position, Aston Martin's performance dip since the Canadian Grand Prix has greatly compromised the F1 veteran's dreams of redemption. Close on Alonso's heels are Carlos Sainz and Charles Leclerc, occupying the fifth and sixth positions in the standings with 150 and 135 points, respectively.
Fernando shares the spotlight with the season's outstanding rookie, Oscar Piastri. His crystalline talent emerged as soon as he had a competitive car at his disposal. Oscar has been consistently fast in qualifying and displays precision in races, resulting in his podium finish during his debut Formula 1 season. What's more, he has demonstrated the capability to challenge his more experienced and equally talented teammate, Lando Norris.
The rest of the grid
The British driver from McLaren currently occupies the seventh spot in the drivers' standings, tied in points with compatriot George Russell. Russell, on the other hand, has had a more challenging season compared to his teammate, Lewis Hamilton. The multiple-world champion has demonstrated greater consistency throughout the season, thus taking a small measure of revenge after finishing behind him in the championship last year. On the other hand, one driver who undoubtedly finds himself struggling in comparison to his teammate is Checo Perez. Despite his second-place standing, the substantial 177-point gap between him and Verstappen paints a picture of a nightmarish championship for him.
Behind them, lies the world of those drivers who find themselves battling at the back of the grid. Inevitably, their performance is constrained by the limitations of the cars they drive. Noteworthy in this context is Williams's driver, Alexander Albon, who, when given the opportunity, has showcased remarkable speed and talent. This stands in stark contrast to rookie Logan Sargeant, who has unfortunately fallen short of expectations, languishing at the bottom of the standings with 0 points. There's also a silver lining for Yuki Tsunoda, who, although lacking any particularly standout moments, has certainly demonstrated improvement compared to past seasons. His three points earned do not entirely reflect his progress, partly due to the misfortune that has struck him on several occasions during race weekends.
World Constructors' Championship
Aston's surprise and McLaren's miracle of performance
Apart from Red Bull's dominance, the 2023 season start has given us an unexpected turn of events. Aston Martin, in particular, has made a significant leap in performance, going from seventh to second in the championship standings. The investments and efforts poured into this ambitious F1 project by Lawrence Stroll are finally bearing fruit. Canada, however, marked a decline in performance as AM was outpaced by competitors who made successful updates to narrow the performance gap. Nonetheless, this dip was somewhat expected. The exponential growth achieved between the 2022 and 2023 seasons resulted from tremendous efforts in terms of work and resources invested. As the season progressed, the margin for improvement compared to competitors appeared to be shrinking. Moreover, it's crucial to acknowledge that Aston Martin remains a second-tier team, lacking the same level of resources as those at the pinnacle of the sport.
In contrast, McLaren is having a compelling season so far. The papaya team endured a bleak start to the season, with a double-zero finish in Bahrain, placing a substantial burden on Andrea Stella, who assumed the role of team principal. Remarkably, their dedication paid off as McLaren successfully orchestrated a turnaround. They re-evaluated their project and demonstrated a profound understanding of their car, implementing a series of highly effective updates that transformed their orange cars from struggling at the bottom of the grid to securing podium finishes. The second-place finish in the constructors' championship remains a distant 133 points away, seemingly an unattainable goal. However, the battle with Aston Martin remains wide open, as the papaya-colored cars continue to accumulate crucial points in their rivalry with their English counterpart.
A season of disappointments
Separate discussion for Ferrari and Mercedes, the notable absentees of 2023. Those who had hoped for a more competitive World Championship have certainly been disappointed. Ferrari has lost every bit of competitiveness it showed last year, facing enormous difficulties at the start of the season, partially remedied only from the Monza race onwards. On the other hand, Mercedes has been stubborn, perhaps driven by pride, sticking to a car philosophy focused on zero-pods, which hasn't paid off in the new ground-effect era. However, there's an ongoing battle for second place in the constructors' championship between the two giants, with a 20-point gap separating them. Currently, this rivalry stands as one of the most captivating aspects of the championship, with implications extending into the 2024 season.
Alfa Romeo, Haas, and Alpha Tauri have also performed poorly compared to last year. The latter, in particular, has had the most challenging season. The myriad of updates have failed to significantly improve the Faenza-based team's performance, which remains firmly at the bottom of the standings. Williams, on the other hand, has shown some improvement compared to past seasons, with Albon producing noteworthy performances like his qualifying run in Monza. A special mention goes to Alpine: an internal upheaval with a completely re-arrenged organizational structure has not helped the team's performance. Plus, the internal discord between the two French drivers, Pierre Gasly and Esteban Ocon, does not cast a positive light on a team that fired everyone on the spot for failing to live up to the competitiveness promises made at the start of the season.
End of the season and prospects for 2024
With six races to go and both the constructors' and drivers' titles secured, there is still much at stake. The extraordinary growth capabilities demonstrated by some teams bode well for 2024, with the aim of narrowing the gap between Red Bull and the rest of the field as much as possible. Ferrari and Mercedes are expected to do what Ferrari and Mercedes should do, with McLaren clearly becoming more of a menace for them. As far as drivers are concerned, despite some unsatisfactory performances, all of them have been confirmed for the 2024 season, which, for the first time in Formula 1 history, will see an unchanged grid. At this stage, all that remains is to wait and enjoy the last races of the season, with final conclusions to be drawn on November 26th at Yas Marina Circuit.